Building and scaling successful digital products requires strategic planning from beginning to end. The process can be complex and tiresome, but an environment of collaboration makes it easier to achieve success by building trust and establishing a roadmap for teams for the product phase in your path to launch or when you're trying to maximize your product's offerings.
At Rapptr, the value of partnerships is critical to our efforts in building and scaling our clients' products. This includes our playbook strategy of conducting interactive workshops that get creative juices flowing and take our relationships with clients to the next level. Client workshops are essential because they generate momentum and set the project up for success beyond completion dates. Whether you're a development team, small business owner, or an entrepreneur looking to build a digital product, everyone benefits from mastering key elements of a successful client workshop. Ensuring collaboration and participation will bridge your development team's strategy and the client's end-goal product into a seamless flow. In this post, we'll give an overview on best practices for client workshops, featuring insights from two incredible leaders on the Rapptr team who are seasoned in facilitating them.
Things to Consider
Preparation Is Key
Understanding the client's vision is the most important step in building an MVP or analyzing progress. Simply put, you can't make a product you don't know enough about- it's like going to a car dealership without knowing what kind of vehicle you're in the market for or asking for a specific hairstyle without a reference photo. In all three of these examples, research and communication is key to developing effective relationships with all parties. In the context of product development, you should always consider the following: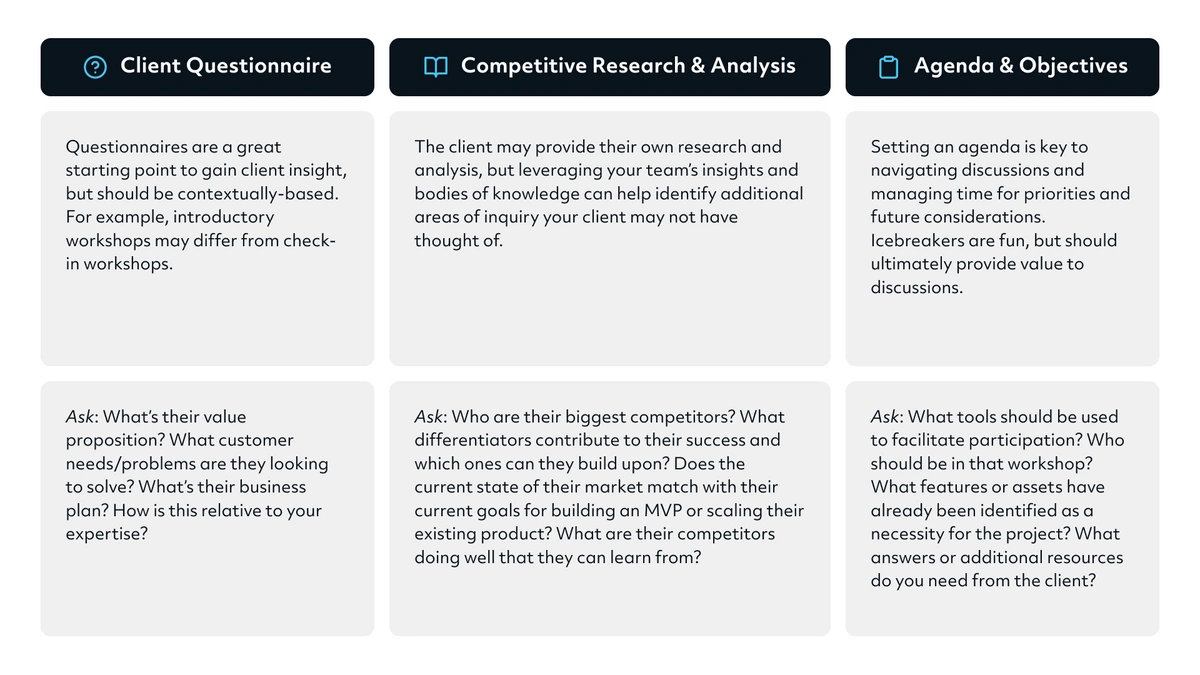 Once you've developed or refreshed your understanding of your client's niche market and value proposition, you can tailor your agenda to suit the client's needs. There are many workshops you can hold - Rapptr primarily holds two kinds: kickoffs and roadmaps. Kickoffs are for new clients looking to build a new product (MVP); roadmap workshops are to assess the direction of existing clients for existing products. However many you choose to hold, a successful workshop should align your company's expertise with the clients' interests, helping to strategize the direction of the project and create an experience their users will love. And because time is costly for all parties, you'll want to manage your time effectively and prioritize relevant tasks to get the most out of these sessions with clients. Both our Director of Product, Luke Westbrook, and our Director of Delivery Management, Danny Gainer, regularly help facilitate these workshops. Here, they share their thoughts going into kickoffs and roadmap workshops:
Prioritize Participation
When conducting client workshops, clients have to develop a sense of value in your expertise relative to their product's current form or roadmap to success. Building trust is essential to ensure your client knows you understand what they value, their vision, and how your team will get them there. For Rapptr, that means getting the client to know we're just as excited about the product as they are. And we do so by doing our research and structuring our workshop activities accordingly with a variety of tools- like using our informed analyses to ask the right kind of questions, integrating collaborative tools like FigJam to get the clients brainstorming, and creating action items for each respective team to takeaway.

Participation is one the biggest components of a successful client workshop because in the world of product development, insight is power. But extracting that from anyone in a room requires strategy too. And it matters who is in the room participating or leading the workshop. The goal is to generate excitement and innovation, meaning whoever is leading discussions must have the ability to own a room and convince clients that their interests and needs are considered in the established partnership. The best workshop facilitators won't always be your strongest technical person. Whatever their role may be, it should always be someone with strong interpersonal communications skills who encourages participation and avoids speaking over clients. The technical aspects of product development can be intimidating for clients who aren't tech-savvy, so you'll have to tailor that in when encouraging participation.
Be Transparent & Value-Driven
Whether you're starting off a kickoff with a first client or checking in with an existing client, transparency is important in order to build genuine trust. In kickoffs, setting realistic expectations with clients in capabilities and requirements helps you establish attainable goals while maintaining the momentum. But this is especially important for roadmap workshops, because roadmaps demonstrate the value in your work and align your contributions to the client's vision.

As you structure your workshops to foster collaboration between multiple teams, transparency will help build on those relationships and identify new opportunities of engagement for all parties. Successful partnerships leverage insights from all areas of expertise and embrace diversity of thought. For Rapptr, transparency is one of our most critical tools in building and scaling for current and future success. Why? Because the more transparent you are with your client, the more they believe you truly value the potential of their product.
Next Steps
However many workshops are held or structural approaches are taken, our teams should walk away knowing the client's vision and how they plan to approach the respective stages of development. Clients should also walk away with a greater sense of confidence and trust, knowing that their ideas and products are in safe hands with a team willing to ask questions when necessary and focused on maximizing their product's impact. That's why Rapptr workshops may vary across clients and industries, but our outcomes continuously focus on long-term vision and building meaningful relationships with our partners because they're central to our success as an agency. We strategically tailor each workshop to find the best solutions for our clients, no matter their industry or market. Workshops are only a part of launching successful digital products, and that's what gets us excited.

We'll also continue to share our knowledge as we keep pushing the envelope for our clients, challenging ourselves to get better every day- one of our core values at Rapptr. To learn more about our Rapptr approach, you can stay tuned in to our blog as we share more of our perspectives, or explore some of the cutting-edge projects we've undertaken with our clients on our website.